There are 2 ways to make a player an admin which we will explain in this article.
#1 Server Console
You can find your server's console on the main page after selecting your server on the Fragify panel.
1. Login to the Fragify panel and select your Project Zomboid server.
2. You can see the input field with Type a command... under your server's console.

3. Join your server and return to the Fragify panel. Type the following command:
setaccesslevel usernameOfPlayer admin


You will see as a confirmation the following text in the console:

Afterwards, you will see next to your username Admin tag marked in red colour.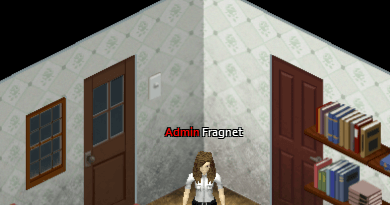 There are also different access levels apart from Admin. The list of all access levels and their abilities:
Observer
Toggle god mod (on himself only)
Toggle invisible (on himself only)
See players connected (/players)
Teleport to a player (can't teleport a player elsewhere)
Can toggle noclip (on himself only)
Teleport to coordinates
See server options
Can open locked doors
Can go inside safehouses
Can't be kicked if too laggy
Can always join server (even if full)
Can talk even being invisible
Sees invisible players
Can't be hit by players
Log directly invisible/invincible
Can see players stats (name, skill, traits...) with click on player -> Check Stats (but can't modify them)
GM
Everything an Observer can use, plus:
Toggle god mod (on himself and others)
Toggle invisible (on himself and others)
Can toggle noclip (on himself and others)
Teleport to a player to another player
Use /alarm, /gunshot, /thunder and /chopper
Start/Stop rain
Add item
Add xp
Overseer
Everything a GM can use, plus:
Create horde
Kick user
Display server message
See connection info of a player
Disconnect a player by connection number (/disconnect)
Use /nightlengthmodifier
Can modify player stats in the player stats UI
Can ban a player from /all chat
Moderator
Everything an Overseer can use, plus:
Ban/Unban user (including steam ID)
Manipulate whitelist (/adduser, /addusertowhitelist, /addalltowhitelist, /removeuserfromwhitelist
Change access level (can't set admin)
Can setup safehouses
Admin
Everything a Moderator can use, plus:
Save world
Quit world
Change access level (including admin)
Reload server options
Change server options
Send pulse
Reload Lua files
Bypass Lua checksum
If you want to see any other available commands in console, you can type help.
#2 Editing PZServer.db file
To add an admin to your Project Zomboid server, you will need to edit the serverPZ.db.
The server will look in your zomboid database folder (/pzserver/db) for a database file (PZServer.db) with username / passwords to authorize people trying to connect to your server.
1. Login to the Fragify panel and select your Project Zomboid server.
2. Stop your server and navigate to the File Manager option on the left-side menu.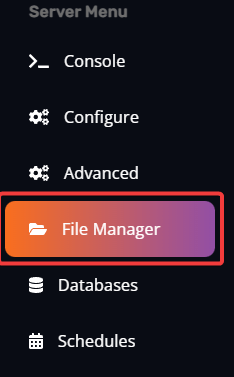 3v. Go to the following directory: pzserver/db and you will find PZServer.db file. You will need to click on ... => Download option.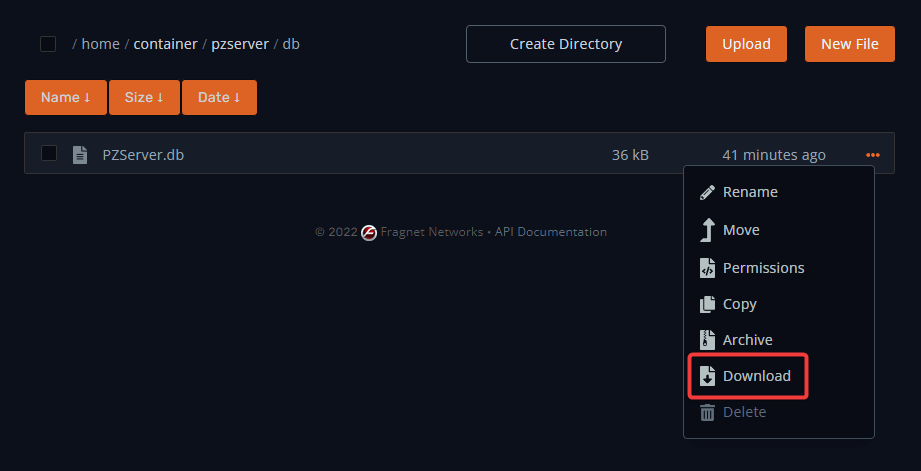 4. Next, download this: SQLite Admin It's for editing file based sql (sqlite) databases.
5. Go into Tables, click whitelist, expand it out and click a random field (say id).
6. Then click the Edit Data tab, and you can put data in. All you need to do is to tick the "Admin" checkbox next to the players that you want to have admin rights.
Example: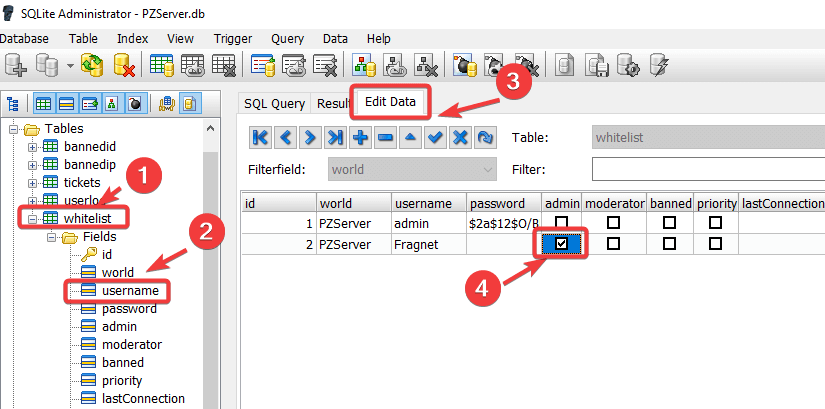 Close the database once you've made your changes, and it'll auto save. 
7. Upload the modified file onto the server to replace the existing one by clicking Upload button or using the drag and drop function.

8. Start the server, and the player should have admin privileges.